The (not so) Secret Guide to Magical Corporate Events
by Corporate Magician Ed Sumner
Why do event organisers hire magicians for corporate events?
There are many types of events that might be considered "a corporate event" - an awards night, a Christmas party or even a small team gathering in a restaurant. The constant throughout all events is that at their core they are about people. A magician is an excellent choice because great magic is interactive. It engages people with the event on a level that few other artforms can match. Magic is first and foremost entertainment, but that doesn't mean it can't be more as well. At least that's how I think about it. My magic thrives on encouraging others to do the impossible. Isn't that a fantastic message for a business?
What are some of the ways magic can be incorporated into an event?
Magic is flexible enough to fit into various places throughout an event.
Close up magic, where the performer mixes with guests is a great way to welcome people during a drinks reception, or where networking is part of the schedule. It helps to break the ice, set the mood and start conversations around a shared moment of the impossible.
Or why not have a magician perform between the courses of a dinner? It serves a similar function as welcome magic, with the added benefit that every table experiences their own exclusive show.
After dinner, a stage show is a great way to up the wow factor. Plus this is a style of magic few get to experience live. This could be a 15 minute interlude before a guest speaker or a full evening show.
You might even ask a magician to host the whole event, weaving their magic throughout.
Over the years, I've performed in all of the above, as well as organising teams of magicians for larger events. Whatever you have in mind, it's worth a conversation. Although some of what we do is a secret, no good magician will hold back from explaining how to get the most from magic for your guests.
Ready to find out more?
Get in touch today for an accurate quote or more information.
How does your magic improve the experience for guests?
Just as everyone has different music tastes, I believe there are different magic tastes too. Seen a magician you didn't like? You probably don't hate all magic! Instead that one guy or girl didn't connect with you.
I describe my style of performance as lively, approachable and conversational. By integrating with guests, my magic breaks down barriers so people want to be involved. Remember what I wrote earlier? The best magic is interactive, not passive! Imagine a room filling with uncontrollable laughter, gasps of amazement and rapturous applause. Imagine people turning to their best friend who just read their mind and asking them, "How did you do that?" That's what I add to events. I spark the stories and memories that guests will be telling for years to come.
What advice would you give to someone considering magic for an event?
There is a saying in magic, which I think applies across the whole events planning industry. People are either there to remember, or they are there to forget.
With that in mind, the best advice for someone hiring a magician is to make the magic a feature of the event. Even if you're only adding in a taste of magic, such as during the guests arrival, treat it as something special. Tell guests in advance so they can get excited about it. You could even ask your magician to make a short video to introduce themselves. After all, it's not everyday you get to see the impossible. The best events I have performed at are the ones where people have been genuinely enthusiastic about what I do.
What are some of the stand out events you have worked at in the past?
Having performed at thousands of events over the past 15 years there are many stand out moments, but with the previous question still fresh in your mind, here are two that I will never forget!
Following a recommendation, I was hired to perform for a corporate networking event in Boston, Massachusetts. The event was a fairly relaxed evening with no spectacular moments (except the magic of course!) But it was my first international event. As is so often the case in life, it was about the journey, not the destination.
Shortly following the above event, one of the delegates asked me to perform at his wedding in Miami, Florida. I spent two years learning conversational Spanish and converting many of my routines purely so that half of the party didn't feel left out. I think that's a pretty solid definition of going the extra mile.
How should someone make sure they choose the right magician for their event?
Much of hiring a magician is about the personality of the performer. Do you want this person at your event? I honestly believe the best way to get a feel for someone is to speak to them. While an initial enquiry might come via email, it's always a good idea to speak on the phone. A short ten minute phone call could save you hours of emailing back and forth.
Another important factor is, of course, experience. Over the years, I've solved many of the issues that someone starting out hasn't even considered yet. That means I'm able to quickly adapt so if there are any issues they are solved before you even know about them. How's that for magic?
In short, are you confident they can do the job required? You may look at their online reviews, and photos or videos of them performing but again... if you speak to those on your shortlist, it will become pretty clear, pretty quickly, whether he or she knows what they are talking about or not.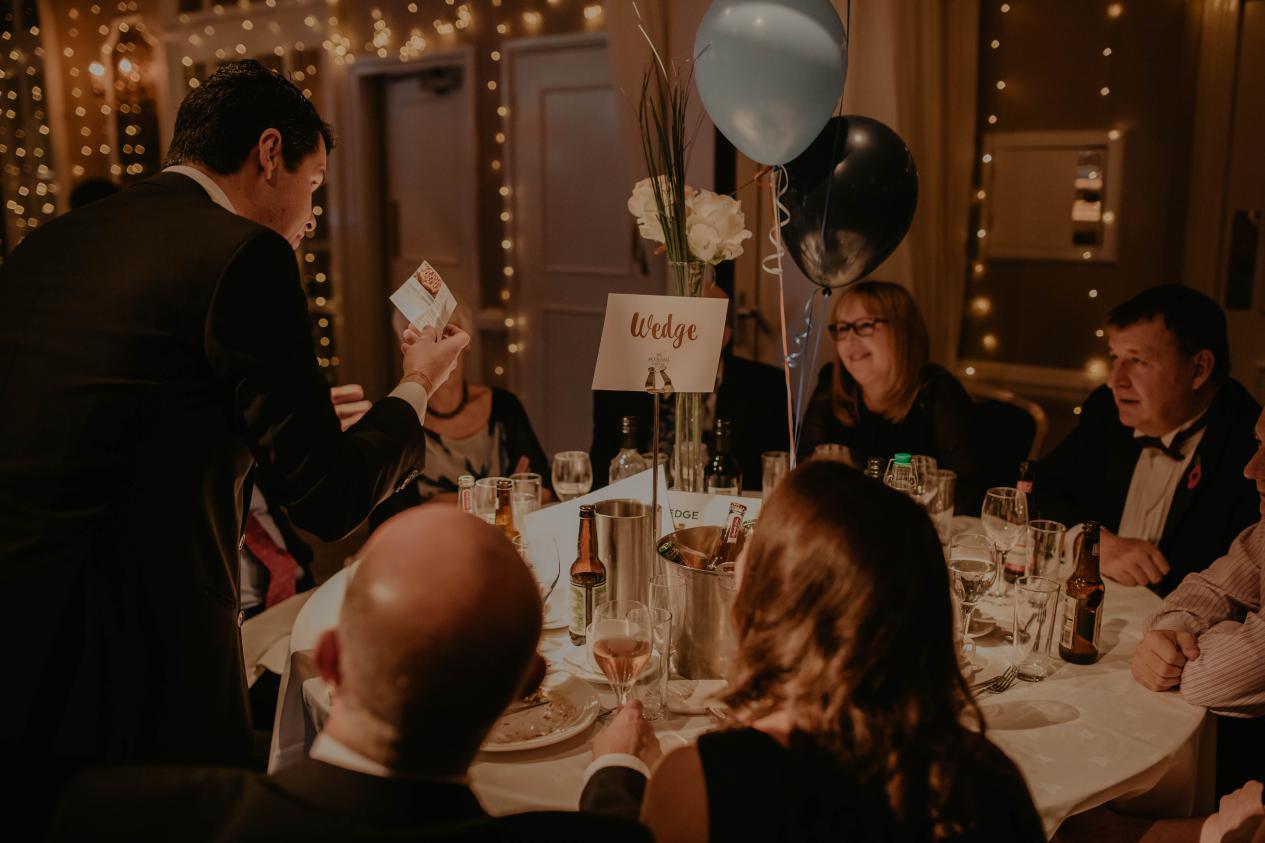 I booked Ed to perform at my husband's 60th Birthday party. We had invited 20 friends to a local restaurant and Ed entertained us between courses. He was supremely professional and we loved all of his magic. Ed was friendly and funny and made sure to include all of our party, who were aged between 3-89. Having Ed's magic at our party made the event special and memorable and I would recommend Ed without reservation.
Fantastic close up magic that enthralled everyone
A great evening, blew our mind with his tricks! Would recommend 10/10
Ed, you were awesome! - very entertaining, funny and clever.
Very good and entertaining, would recommend.
Just wowed at a corporate event… thoroughly recommend.
Ed was great, very entertaining.
A fantastic magician and entertainer.
Just wow, totally babbled. How did he do it. Amazing
How has the pandemic changed magic performances?
The recent lockdowns saw the creation of a new genre of magic, performed virtually. At the same time it provided magicians the opportunity to access a truly global market. Despite some experience performing on television and for filmed media, I didn't push myself forward as a virtual magician. Instead, I chose to spend most of my time volunteering with a local charity.
Virtual magic seems here to stay and can be incorporated into video call get togethers or virtual / hybrid events. I'm not the best person to give all the ins and outs of what's involved in that style of performance. However, I'm well connected within the magic scene and can always recommend someone when I'm not the best fit for an event.
As for live events. That's where my magic shines! My performance style is conversational. It's about people and the connections we make. The interactions I create through magic have been designed to get the most from guests, to engage them in a way that makes the experience impossible to forget.
Ready to find out more?
Get in touch today for an accurate quote or more information.
Looking to hire a magician?
Get in touch today for an accurate quote or more information.
YOUR INCREDIBLE EVENT IS
JUST A FEW STEPS AWAY
It's easy to get in touch with me, either:
During a short phone or video call, we'll talk about your event and your initial ideas. Don't worry, if you're not sure. I've helped to plan many events so I can advise on the best use of magic and other events entertainment.
Once all the details are agreed, I'll send you a booking confirmation and ask you to make the first payment which confirms your date in my calendar. Then it's time to start looking forward to your big event.
I'll check in with you in the week before your event, and on the day of the event. All you need to do now is enjoy the magic, mind reading and conversational comedy.

ED@EDSUMNER.COM
07792 129 828