How to write a Wedding Speech - The Ultimate Guide
How many speeches should we have?
(and who should give them?)
Let's start by discussing who normally gives a speech at a wedding. Even while it would be nice for the couple's closest friends, siblings, and other significant individuals to say a few things during the wedding reception, you probably don't want the wedding speeches to go on for too long. Typically, the most important remarks during a wedding reception came from:
The bride's father, who welcomes guests to the celebration.
The groom, who thanks everyone for attending.
The best man, who has a slightly different role depending on which country the wedding is in.
Of course, weddings are not always traditional. I've attended many same sex weddings, and in these cases, you might like to choose one parent from each to give a speech.
One of you might like to give the couple's speech, or you might like to share the duties.
I've even seen video presentation speeches delivered remotely. Remember, at the end of the day, it's your wedding. You should have what you want, and nothing that you don't want.
If you have a wedding host or master of ceremonies, then they will gather people's attention, and introduce the first speech.
This is usually the parent of one of the couple (traditionally, the father of the bride). They make the opening remarks, welcoming guests and thanking everyone for attending the happy couple's special day. As mentioned, it's best if the speeches don't go on for too long, so this speech is usually about 7 to 10 minutes.
One of the couple then speaks up to thank the previous speaker for the toast and to thank the guests, their new partner, and both sets of parents. This speech is usually the shortest at about 5 to 7 minutes. That's a good thing, as you may be slightly nervous.
Following those remarks, the best person, chief bridesmaid, or other close friend assumes control. In the UK, this is a more free form speech liberally sprinkled with humour and poking fun at their friend. At my wedding, my best man even included an incredible magic trick for my guests. This speech concludes with a final toast to the happy couple. This speech is usually the longest at 10 to 15 minutes.
All in all, this should take about 30 minutes. I think that is about right for this section of the day.
As mentioned you might like to tweak the formula a little bit, and perhaps ask another parent or close friend to say something.
Which order should the speeches be in?
(and how long should they be?)
If you having a sit down meal, the best place for the speeches is after the meal, while guests are being served tea and coffee. Some couples choose to have the speeches at the start of the meal, but I feel this is a mistake as guests may be hungry and less inclined to pay attention if they have to sit through 30 minutes of speeches, whilst instead keen to get eating.
However, as I've mentioned a few times these are just guidelines. At my own wedding, we had the speeches before serving a selection of street food. We felt this was acceptable, as guests had just had canapes and then moved to a separate location for the evening party (we didn't have a sit down meal).
When should the speeches take place?
What should the parent speech be about?
The parent speech (again traditionally, the first speech) should welcome guests to the wedding, and thank everyone for coming. They often include a short 'welcome to the family' to the new partner, or something along that sentiment.
Sometimes they include a bit about what they thought when introduced to their child's new partner. I think that can be a nice touch, provided it's something positive.
The parent might also talk about their child growing up, and perhaps try to think of something which the other partner doesn't know about their child.
Finally, they might offer some advice for having a long and happy marriage. Regardless of their marital status, married, divorced, separated, or single, they can still offer the pair advice. It's helpful to keep in mind that it's not a case of formally advising the couple. Instead simply list some intentions or aspirations for the couple in this bit of the speech.
What should the couple's speech be about?
What should the best person's speech be about?
This is the fun speech, right? Traditionally, the best man compliments the bride, then tells their friend how lucky they are to have her, whilst at the same time subtlety poking fun at him. Of course, you can take this idea and apply it whoever is giving this speech.
One piece of advice I would give is to make sure that you stay on the friendly side of things. Don't talk about your friend's ex-partners, anytime they got so drunk they vomited, or anytime they were in trouble with the law. This is more about how they left their dirty socks in the microwave when you lived together at uni. Not about the time you committed wire fraud and they spent one wild night in Monaco.
Also, as I've mentioned, feel free to get creative. How about a video presentation? or if you can play the guitar, why not give your speech as a medley of songs? Or maybe you can devise a romantic themed magic trick (like my best man did for me and my wife?)
This is usually the shortest speech, but it's a great opportunity to thank everyone for coming, including both sets of parents.
Often a few gifts are given out, such a bouquet of flowers for each set of parents, and maybe more personalised gifts for the best man, best person, bridesmaids, or anyone like that.
If there is anyone else who has helped you to organise the wedding, then this would be the perfect time to thank them. Finally, it's nice to say something about your partner. Why you love them, and why you're excited to spend the rest of your life with them.
At our wedding, only I gave a speech, but my wife did say she had written some things she wanted to say to me privately, without the pressure of other people being there.
Absolutely, of course, they can. As I've mentioned, not every wedding is traditional, and you certainly don't have to stick to the idea that only the men can speak publicly at the wedding. If a bride, or brides want to give a speech at the wedding, then why not? Go for it! This guide is just that, a guide. There are no rules, so don't be swayed by other people. Have the wedding you want!
Can a bride give a speech?
What are the steps to writing and rehearsing a wedding speech?
Do I need to memorise my speech?
Choose a structure for your wedding speech by doing some research on wedding speeches or toasts from previous weddings if you need inspiration for topics or stories to include in yours. Hint: This blogpost is a good starting point!
Decide on the memories you want to include in your speech. This will help you narrow down your focus and produce unique ideas for the talk.
Later, narrow down your list of ideas until you find one or two that stand out from the rest and is memorable for everyone attending the wedding reception event!
Write out each story in 30 - 45 second speaking chunks, then form them into a cohesive order. You might start with something more general like a welcome, a thank you or a story about how you first met the couple.
Then you might go into more detailed stories that reveal something about your friendship, or the couple.
Finally, you could end on a piece of advice, wisdom or simply the desire that you wish them well and a toast.
To close your wedding speech, create a powerful final sentence. Guests might not recall the entirety of your speech, but if the closing sentence is memorable, they will.
Practice delivering your speech several times in front of a mirror or friends until you are comfortable with how it flows and sounds.
Edit and polish your delivery well in advance of the wedding day so there are no mistakes during delivery on the big day!
While this certainly can make you look more polished, and for my magic routines, I find that knowing my script allows me to focus more on the interactions with the people I am performing for, it's also useful to remember that this isn't a performance. It's also likely that you may feel emotional. I don't see any problem with you keeping your notes nearby, or in hand.
Personally, I think a few notecards look a little better than a sheet of paper, but either is fine. It's also been suggested to me that notecard can get dropped, mixed and that you might lose your place. I number my cards so that this isn't a problem, but as I said, if you are worried about that, just print the speech out onto paper.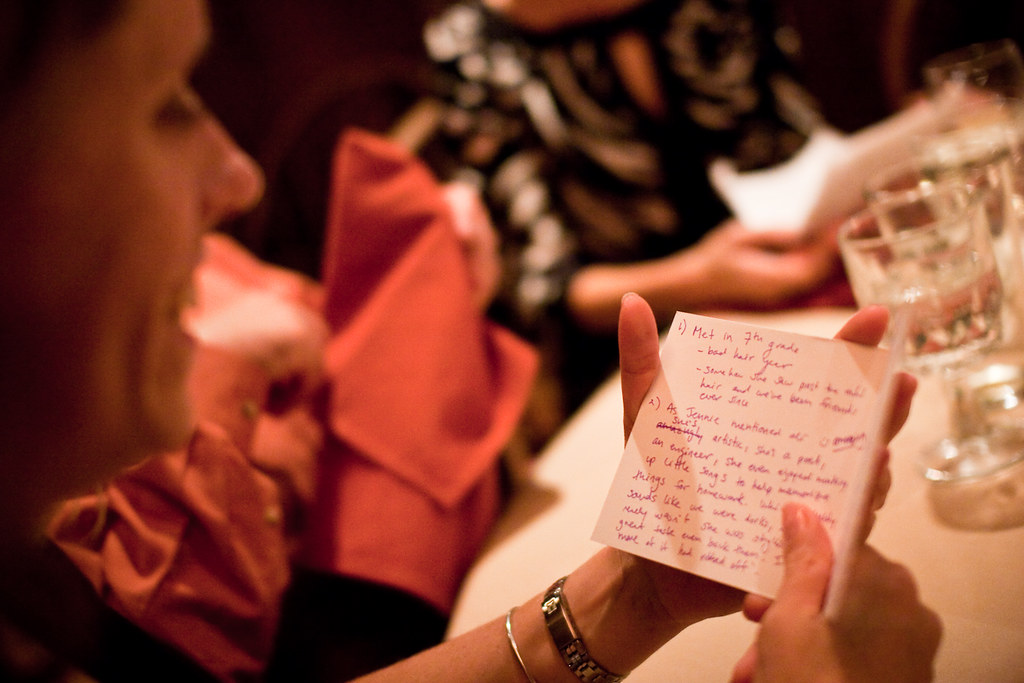 What does a wedding host / master of ceremonies do?
Alongside my close up magic, this is one of the options I offer at weddings, so I'm uniquely qualified to answer this question. In short, as a wedding host, I make sure this important day of your event goes as smoothly as possible.
What I do is welcome the group to this part of the day, make sure everyone is paying attention and facing the right way, etc, and then after a short introduction and warm up (which is a great way to put your speakers at ease), I introduce the first speech. In between, I keep things flowing so that there are is no dead time.
I will also include a short 15 to 20 minute magic performance to the whole group, which is a great way to bring everything together. This can be part of the warm up or can be after the speeches. It's great if you and your partner would like to be involved with the trick, and if so it will leave you with a unique magical souvenir and a memory to treasure, but if not, that's totally fine too.
When you book this option with me. I can also include a microphone and PA hire for you to use, so that's one less thing for you to think about.
If you have more questions about hiring me as a wedding host / master of ceremonies, then please feel free to reach out me here.
Any other wedding speech tips and advice?
You want your speech to be entertaining and memorable (in a positive manner) at such a small gathering! To create a wedding speech that is sincere, amusing, and memorable, use the following advice:
Keep it Short
Although the wedding is not about you and there are other speeches as well, you still want your speech to be memorable and meaningful.
No one ever complains when a speech is too short, but if it goes on for too long, people start to get impatient. If you're trying to figure out how to write a wedding speech, a good rule of thumb to remember is to keep your speech between 2 and 5 minutes long. Any more than five minutes and everyone will be preoccupied with thoughts of cake and whether to subsequently perform the Cupid Shuffle.
Be courteous, keep it upbeat, and speak in terms that everyone can understand.
Keep your audience in mind
The audience you will be speaking to should be considered when you think about how to compose a wedding speech.
The unmarried person or bachelorette party is not happening here. There will be a diverse group of individuals in attendance, including young children, the elderly, intimate friends of the bride and groom, as well as strangers and coworkers. Make sure your speech doesn't contain any coarse language that wouldn't be appropriate for such a diverse audience. Furthermore, it is not the time to criticise any religious rituals.
Add Humor
Never be scared to be humorous! Another piece of advice for writing a wedding speech is to employ your playful, creative, and humorous side to spice up your speech. Everyone enjoys being amused. This doesn't imply that you should go online for generic jokes about weddings, but if you have some nice unique material to utilise that tells a humorous narrative about the bride or groom, use it. Jokes are great as long as you're having fun with the couple and not making fun of them. You may even make fun of yourself to highlight a stronger trait in your closest friend. Making the newlyweds sparkle is the main goal.
Use your additional skills if you're inventive and have them! If you're musical, grab an instrument and/or your voice, and present the speech as a song! Get the other visitors engaged and use props! Because you made something specifically for the newlyweds, they will feel unique, and the visitors will enjoy taking part in the celebration.
Be careful not to say anything offensive.
Even though it should be simple, occasionally individuals may say things that are just improper and out of place. Making jokes about someone's appearance or sharing a tale about something one of the newlyweds did indiscreetly as a child are two awkward instances. In your speech, you may (and should) use humour, but you shouldn't make people feel uneasy.
Keep it simple
The finest speeches only cover the essential points and nothing more. It's fine if you don't want to crack jokes or attempt to make your audience laugh. Be succinct and to the point. Your speech will seem sincere and profound if you're speaking from the heart.
Personalize it
Share any interesting tales you may have about the pair! You witnessed their first meeting or another significant moment in their relationship. Their visitors will enjoy hearing about such sentimental times! You could also have a funny anecdote about the bride or the groom; if it relates to a good quality about them, feel free to mention it in your speech. Just make sure the tale is commendable and favourable to the subject of your discussion.
Be Yourself
Don't feel under any pressure to be anything other than yourself when writing and delivering your wedding speech. This is one of the most crucial lessons to remember. This speech is ultimately a homage to the newlyweds rather than a performance by you. Therefore, bear it in mind and proceed as naturally as you can.
Be sentimental if that's how you roll. Play up your sense of humour if you have one. Not a phoney or forced version of you, but Buddy, was invited to deliver this speech. Be yourself, then.
Put it on paper
It's okay to plan your speech and read it out from a piece of paper or a notecard if you're anxious about presenting it. Avoid reading on your phone or tablet since the resulting light on your face will result in some unflattering pictures. To avoid receiving a call while giving your speech, make sure your phone has adequate battery life and is on aeroplane mode if you do intend to read from it.
Practice your speech
This is necessary in all cases. Prepare your speech in advance by writing it down and practising it whenever you have free time. Try performing it in front of a friend or partner and ask them to comment on the presentation's length, topic, and delivery. You'll feel more confident and your speech will go more easily during the reception if you practise.
End up with a Toast
The final tip on how to create a wedding speech and deliver it flawlessly is to conclude with a toast, of course!
A toast brings your speech to a gratifying end, much like the final period in the last sentence. Wish the newlyweds luck, raise your glass, and have everyone else do the same. Cheers to their future. When it happens, you can finally relax since it's all over.
Ready to find out more?
Get in touch today for an accurate quote or for more information about close up magic or wedding hosting.
I booked Ed to perform at my husband's 60th Birthday party. We had invited 20 friends to a local restaurant and Ed entertained us between courses. He was supremely professional and we loved all of his magic. Ed was friendly and funny and made sure to include all of our party, who were aged between 3-89. Having Ed's magic at our party made the event special and memorable and I would recommend Ed without reservation.
Fantastic close up magic that enthralled everyone
A great evening, blew our mind with his tricks! Would recommend 10/10
Ed, you were awesome! - very entertaining, funny and clever.
Very good and entertaining, would recommend.
Just wowed at a corporate event… thoroughly recommend.
Ed was great, very entertaining.
A fantastic magician and entertainer.
Just wow, totally babbled. How did he do it. Amazing
Looking to hire a magician?
Get in touch today for an accurate quote or more information.
YOUR INCREDIBLE EVENT IS
JUST A FEW STEPS AWAY
It's easy to get in touch with me, either:
During a short phone or video call, we'll talk about your event and your initial ideas. Don't worry, if you're not sure. I've helped to plan many events so I can advise on the best use of magic and other events entertainment.
Once all the details are agreed, I'll send you a booking confirmation and ask you to make the first payment which confirms your date in my calendar. Then it's time to start looking forward to your big event.
I'll check in with you in the week before your event, and on the day of the event. All you need to do now is enjoy the magic, mind reading and conversational comedy.