Professional stage magician for hire
Want to hear your audience spontaneously erupt into laughter, followed by hushed gasps, followed by thunderous applause? I've seen and heard all of this from the vantage point of the stage and it's an incredible experience!
And it's an experience not just for me, but an incredible experience for the whole audience too. I know that you want your next event to be the best and so that's why I recommend you hire a professional stage magician.
This type of performance involves skills that many magicians simply don't have. Not many have the experience to confidently perform to large audiences on stage. You, however, are in luck! When you hire me as your stage magician, I'll draw on my training in the acting and comedy world, as well as my previous experience running my own regular monthly show.
My stage show is modular, which means it can run from 20 to 60 minutes. Regardless of what you choose it will be the talking point of the night, and a memory you will look back on for years to come.
"Ed was the perfect act for our gathering. He performed a polished performance building to an absolutely incredible 'Grand Finale.' Our audience was fully enthralled and entertained."

Ben Hatton, Worcester
Ready to find out more?
Get in touch today for an accurate quote or more information.
HIRE A STAGE MAGICIAN FOR
6 Advantage of a Top Stage Magician
and here's just three reasons why I'm the perfect magician for your event
Ready to find out more?
Thousands have seen me perform as a stage magician. Your guests could be next. It all starts with a simple enquiry.
Performances as a Stage Magician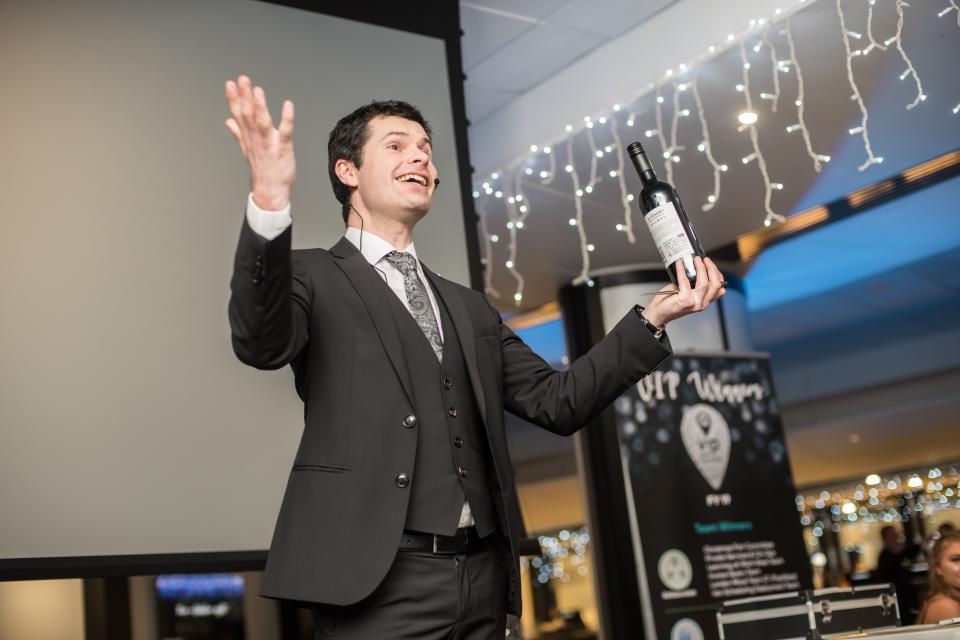 Stage magician and events host for a charity awards evening in Nottingham.
Stage magician for a comedy club magic night in Birmingham.
Performance on a (mini) stage in central Birmingham. Look closely, it's actually Selfridges department store.
"Ed was the consummate professional. He hosted a raucous room of 300 people with patience and style. Ed and his colleague made our night. I couldn't recommend them both enough!"

Jessica Bell, Healthcare at Home, Derby
"For our Anniversary Dinner, our president asked for a memorable, magical stage show, and that's what we got! It was totally mystifying and just what we wanted. Ed was easy to deal with and professional from the first enquiry to the end of the show."
Roger Coopey, Coventry 
"Just got home from the Waitrose event, and wanted to write to say how much I enjoyed your magic tonight! I think your show was enjoyed by everyone!"
Teresa Adams, Kenilworth
"I was very impressed with how you managed being in the spotlight in front of such a large group of people. And the magic... still a talking point a month later. Absolutely fantastic!"
Amy Kempson, Birmingham
"One word AMAZING! Your confidence on stage was clear to see. We are so glad we chose you. Thank you for all of your hard work at our event."
Francine Bridges, Gloucester
How much does a stage magician cost?
Many magicians perform close up magic. I enjoy doing that style of magic too, but remember it's easier to perform for 2 or 3 people than it is for a group of 200 or 300. This page is about magic on stage for audiences of about of about that size. It's a specialist skill that only a few magicians have the ability to do.
An inexperienced (or non-experienced) stage magician makes the audience feel uncomfortable. They feel sorry for them, and the show becomes difficult to watch.
A professional exudes confidence. Not only because they've done this before, but because they are prepared. When you hire me, I arrive hours before the performance, (even if it's only a 20 minute show). If necessary, I'll also send you a full technical breakdown weeks in advance so your team can help me to be heard and seen by all of the guests.
As for the final price - there are many factors that go into that, so it's always worth us having a chat about the specifics of your event. However, I would recommend that you budget at least £500 for stage magic.
Let's talk
There's never any obligation to book, so let's have a quick chat. I'll give you my honest advice about what works, what doesn't and if I'm the best magician for your event.
Magic is enjoyed by many because of the memories that are formed when people share something impossible together! My performances spark the stories you'll be telling throughout your event and for many years after.
What will yours be?
Ed regularly performs magic for weddings, anniversaries, parties and corporate events in Birmingham, Nottingham, Staffordshire, and Shropshire. But you can hire him to perform anywhere. In fact, it's recommended that you do!