Ed Sumner Professional Magician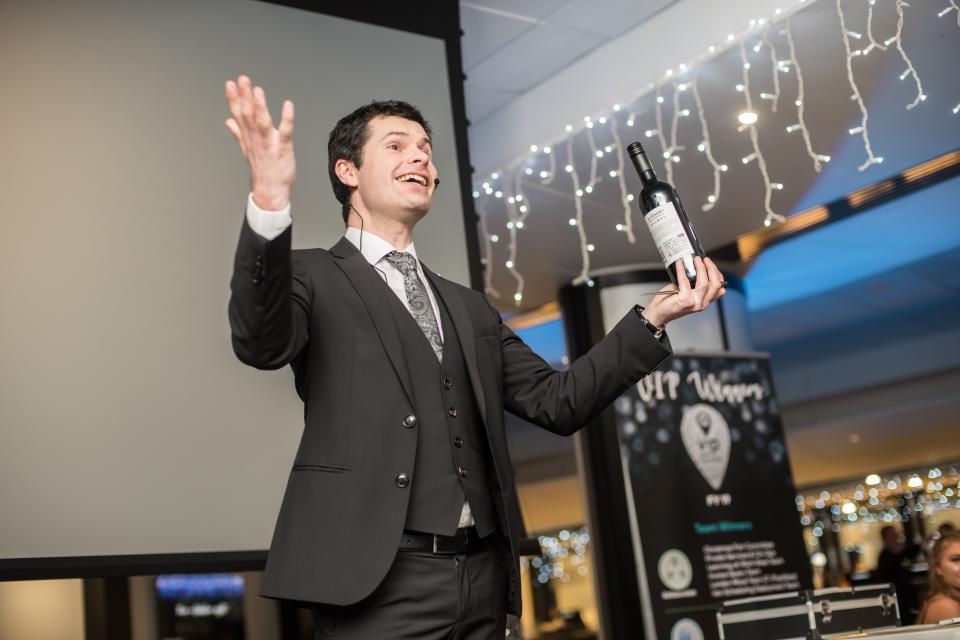 ED SUMNER PROFESSIONAL MAGICIAN
Ed Sumner is a smart, popular and upmarket professional magician, with a lively approach to performing magic.
With a background as a stand up comedian, his magic is often described as a fusion between the two art forms.
So whether he's performing as a mix and mingle close up magician or as stage magician, Ed is most comfortable when he's meeting people and making them laugh. Get in touch today and we'll work together to help you create the event of your dreams!
Ready to find out more?
Get in touch today for an accurate quote!
As a professional magician when you hire I'll make sure your event is the one people can't stop talking about! Just take a look at that video. It was shot in a bar on Birmingham's Broad Street. The girl featured sent me the video a week later. You can bet they were talking about it for even longer!
If you want your event to fill with wild shrieks, screams, uncontrollable laughter and moments of impossibility then get in touch with me today.
How to Hire a Professional Magician?
It's easy to hire a magician for your event (wherever it is taking place). Reach out to me by email or on 07792 129 828, and let's have a quick no obligation conversation. I'll let you know if I'm be the best magician for your event, and what I recommend to make sure your event is truly unforgettable.
Now here's something a little different. Stage magic is not something that every magician provides, but being a professional, I have the skills* to perform an astounding stage performance for your guests whether that's 50 guests after dinner or 500 guests at a corporate awards night.
Just take a look at the video there for a quick taster of what to expect.
*I really mean it. I took acting, comedy and improv classes as well as thousands of hours of studying magic with some of the world's greatest.
Corporate Events Entertainment
I've worked with companies of all sizes. Just take a look at that picture of me performing in Selfridges, in the Bull Ring, Birmingham. That event was promotional magic - a great tool to engage the public and provide information in a fun way.
I also get asked to provide corporate events entertainment. You can choose close up magic and mind reading, my after dinner stage show or full events hosting. Whichever one you go for you'll receive a professional service throughout the booking process, and on the day. And by that I mean, of course, that the magic is of the utmost quality. My job is to create incredible moments that stick in the mind long after the event is over.
A wedding is the perfect opportunity to party. I've performed at weddings from north to south across the UK. At each one I'm there to make sure you get the chance to kick back and enjoy your own wedding without any stress. Simply put, my entertainment gives you the time to meet guests at your own pace.
Not only that but I bring people together through a shared experience of the truly impossible. The photo next to this paragraph is one of my favourites. It was taken at a wedding in Birmingham and the photographer seems to have perfectly captured one of those, "how did he do that?" moments.
After Dinner Entertainment
Whether it's a small family gathering, an anniversary, a golf club dinner or other celebration, my after dinner entertainment is the perfect way to round off your night.
Some options include, a small show at home or in a private dinning room, close up magic or a large scale WOW filled stage show. Just look at the photo shown next to this paragraph. It was taken on stage in Nottingham, and if you think the girl in the photo looks surprised, you should have heard the audience!
Magic fits in well at a variety of different events but certainly not all of them. A magician with professional experience will be able to give you advice about what works best and give you some ideas and options specific to your event.
At least that's what happens when you enquire with me. I'll be honest about the different styles of magic that will work well and if I'm the best magician for you.
Ready to find out more?
Get in touch today for an accurate quote!
Professional Magician Locations
The map below shows the areas I cover most of the time, but please get in touch wherever your event is. If you want to read more about me performing as a magician near you, then click on the links to some local areas below.
It is always worth getting in touch with me as I do perform across the UK and internationally.
Reviews of Birmingham Magician, Ed Sumner
"Ed performed at a corporate event we hosted in the city. He amazed and delighted all who attended! I would not hesitate to hire him again, and in fact, look forward to the opportunity to do so."
Steve Broback, Dent the Future, Boston, USA.
"We hired Ed for our wedding and we are so glad we did! Ed is not pushy or imposing! He has an exceptional talent for gauging the audience and adds audience participation without making people feel uncomfortable. Very highly recommended!"
Gemma Comer, Birmingham
"Funny, captivating, affable and absolutely fantastic at mesmerising people with his skills. I was absolutely delighted with everything Ed did for our guests. I would not hesitate to recommend Ed to anyone looking for a solid professional magician."
Ian Gandley, Birmingham
"Ed recently performed at my sister's wedding at Rowton Castle. Everybody enjoyed his magic. He brought humour to what he was doing. The professional manner in which he took the booking and ensured he knew exactly what was required was a credit to him. I have no hesitation in recommending him to anybody who is looking for a solid professional."
Jeremy Haigh, Shrewsbury
"Ed worked his magic at our evening event in Harrogate. It was a big crowd and he successfully entertained and amazed everyone, adding to a great atmosphere and a brilliant night!"
Jackie Baker, Branston, Harrogate
"Ed was professional and communicated frequently prior to the day, he was punctual, friendly, funny and most importantly extremely entertaining. We are very grateful to Ed and will be recommending him highly to all of our friends!"
James & Emmie Parton, Lydbury
UK Close up Magician
As Birmingham is centrally located, I'm in the ideal position to perform at events across the entire UK and I am often invited to do just that. Get in touch with me today about your event and I'll be happy to give you some free advice about what would work best and an accurate price of how much a magician costs.
When you hire me as a magician or attend one of my live events, I'll help you and your party be part of an unforgettable experience.
Magic is great because of the memories that are formed when people share impossible moments together.
My conversational style of magic and comedy is an approach that puts your guests first. It helps to break down barriers and make sure everyone feels valued.
Just imagine your guests reading each other's minds, or getting the credit as they deliver the punchline that gets the big laugh! When people are engaged like this it sparks stories, they'll be telling throughout your event and for many years to come.
Magic is enjoyed by many because of the memories that are formed when people share something impossible together! My performances spark the stories you'll be telling throughout your event and for many years after.
What will yours be?
Ed regularly performs magic for weddings, anniversaries, parties and corporate events in Birmingham, Nottingham, Staffordshire, and Shropshire. But you can hire him to perform anywhere. In fact, it's recommended that you do!