The Different Types of Close-Up Magic: Exploring Performing Formats
Close up magic has captivated audiences for centuries with its intimate, engaging, and often mind-boggling performances. As a versatile art form, close up magic can be presented in various formats, making it suitable for a wide range of events and environments. In this blog post, we will delve into the different performing formats for close up magic, highlighting some of their unique characteristics and benefits. Hopefully this helps you to choose what sort of close up magician would be suitable for your event.
I'll be looking at the following types of close up magic:
Walkaround close up magic
Table to table magic
A close up magic show
Close up magic on stage
Close up magic on TV / video
ps. read to the end of this post as there's a little quiz question for you!
WALKAROUND CLOSE UP MAGIC
Walkaround entertainment, also known as strolling magic or mix and mingle magic, is probably the most popular format for close up magic performances. That's because it fits in at a wide range of events including at corporate gatherings, cocktail parties, birthdays and weddings. In these settings, the magician moves through the crowd, engaging small groups of guests and performing illusions right before their eyes.
The primary advantage of walkaround entertainment is its ability to break the ice and encourage interaction among attendees. By engaging with guests on a personal level, quality close up magicians, such as myself, create a lively fun atmosphere and bring your event to life. Walkaround magic is also highly adaptable.
For large events, I can hire extra performers on your behalf to make sure that everyone gets to see some magic, or the entertainment can be mixed with other forms of performance such as mind reading, silhouette cutting or palmistry.
For smaller events, I get to spend a little with performers able to adjust their routines to suit the preferences and interests of individual guests. Something like balloon modelling can also be added in for family events.
Walkaround magic at a wedding.
Table to table magic, (sometimes just known as table magic) is often found at dining events or banquets. This involves the magician moving from one table to another, performing close up magic for seated guests. This format offers a more structured approach to close up magic, with the magician providing entertainment during the meal or between courses.
The intimate nature of table to table magic creates memorable experiences for guests, who can witness the magic right in front of their eyes. When I perform as a table magician, this format allows me to tailor their performances to each table, personalising the experience and ensuring that every guest feels valued and included. Finally, and perhaps the biggest benefit of table magic is that it can also act as a conversation starter among attendees, promoting a lively and engaging atmosphere at the table and throughout the event.
As mentioned in the close up magic section, I can organise a team of table magicians for large events. What we often do is split the room into sections or by table number so that we can ensure every table, and therefore every guest is entertained.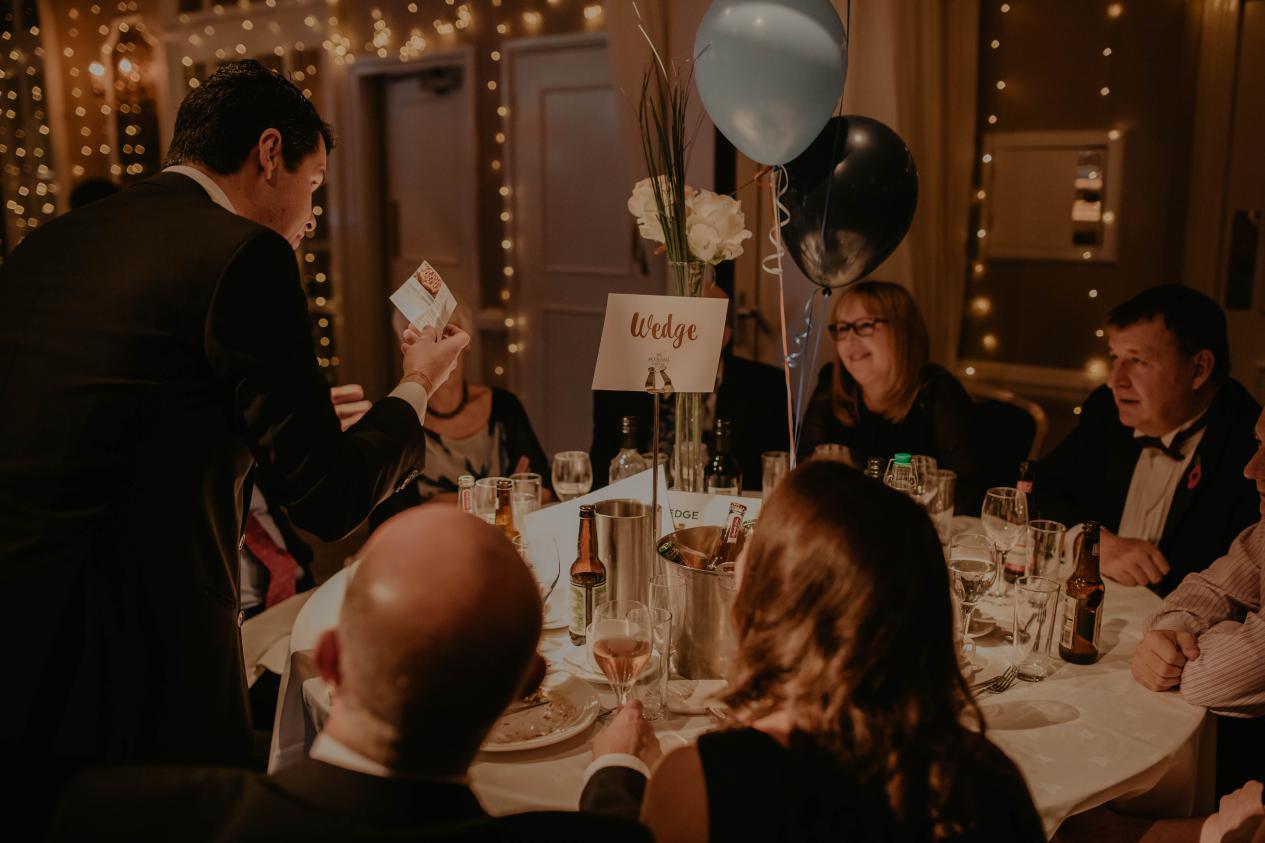 Table magic performed at a Christmas party.
A close up magic show is a structured performance, typically presented to a small audience in a more intimate setting, such as a private room or a designated performance area. In this format, guests gather around the magician as they perform a series of tricks and illusions which encourage audience participation, creates memorable moments and fosters a sense of connection between the performer and the attendees.
This type of close up magic show is ideal for smaller events where some focus can be put on the entertainment. For me, a close up show is equivalent to my parlour show, so that would be the best place to look if you are thinking of having this form of entertainment at your event.
The structured nature of a show allows me to build anticipation and showcase my carefully crafted routines without the distractions usually found in walkaround magic or table magic.
Performing close up to a group at a wedding anniversary party.
While close up magic is typically associated with smaller, intimate performances, it can also be adapted for the stage. In this format, a magician performs close up magic on stage, using cameras and large screens to project the tricks to a larger audience. I've done this a few times, but it is rarer for me than the other formats, as the client has to have, or hire, suitable equipment into to project the performance to their guests. However, this approach is a good option at conferences, award ceremonies, or larger corporate gatherings where you have a very large number of guests and yet still want something on stage that connects with everyone. Often it is combined with my stage magic show.
Close up magic on stage, however, allows me to maintain the sense of wonder and astonishment associated with close up magic while reaching a more extensive audience.
CLOSE UP MAGIC ON TV / VIDEO
The rise of television and online video platforms has given close up magic a new avenue to captivate audiences worldwide. Close up magic on TV or video often involves magicians performing their illusions for a host, celebrity guests, or a live audience, with the camera capturing every detail of the performance. These performances are then broadcasted or streamed, allowing viewers at home to witness the magic and share in the experience.
Close up magic on TV or video platforms such as YouTube offers several advantages, including increased exposure and the ability to reach a global audience. This format also enables magicians to experiment with new tricks and techniques, pushing the boundaries of the art form and engaging viewers with innovative illusions. One thing that interests me is how the camera can be used to give a unique viewpoint not normally seen, eg. the view underneath the table, as the magician pushes a coin through it. This new perspective provides a new experience of magic, and helps our artform to grow.
Close up magic remains a timeless and enchanting form of entertainment that continues to captivate and astonish those lucky enough to see it and be a part of it. That's one of the big appeals of live close up magic. It's at it's heart, an interactive art form. It's more about the people involved, than it is about the tricks. Although, yes, they are amazing too!
Not only that, but the diverse performing formats of close up magic (and close up mind reading) demonstrated in this blog post show the versatility and adaptability of this captivating art form. Whether it's an intimate walkaround performance, a structured formal show, or a larger scale stage production, close up magic can be tailored to suit a variety of events and environments.
What's more, as the popularity of close up magic continues to grow professional magicians, such as myself, are continually exploring new ways to present their tricks and engage with their audiences.
CLOSE UP MAGIC AT YOUR EVENT
Ready to find out more?
Reach out to me for more information about close up magic at your event.
I booked Ed to perform at my husband's 60th Birthday party. We had invited 20 friends to a local restaurant and Ed entertained us between courses. He was supremely professional and we loved all of his magic. Ed was friendly and funny and made sure to include all of our party, who were aged between 3-89. Having Ed's magic at our party made the event special and memorable and I would recommend Ed without reservation.
Fantastic close up magic that enthralled everyone
A great evening, blew our mind with his tricks! Would recommend 10/10
Ed, you were awesome! - very entertaining, funny and clever.
Very good and entertaining, would recommend.
Just wowed at a corporate event… thoroughly recommend.
Ed was great, very entertaining.
A fantastic magician and entertainer.
Just wow, totally babbled. How did he do it. Amazing
What type of close up magic is this, that I'm performing here at a company summer party?
(see below for the answer)
Looking to hire a magician?
Get in touch today for an accurate quote or more information.
YOUR INCREDIBLE EVENT IS
JUST A FEW STEPS AWAY
It's easy to get in touch with me, either:
During a short phone or video call, we'll talk about your event and your initial ideas. Don't worry, if you're not sure. I've helped to plan many events so I can advise on the best use of magic and other events entertainment.
Once all the details are agreed, I'll send you a booking confirmation and ask you to make the first payment which confirms your date in my calendar. Then it's time to start looking forward to your big event.
I'll check in with you in the week before your event, and on the day of the event. All you need to do now is enjoy the magic, mind reading and conversational comedy.

ED@EDSUMNER.COM
07792 129 828