I booked Ed to perform at my husband's 60th Birthday party. We had invited 20 friends to a local restaurant and Ed entertained us between courses. He was supremely professional and we loved all of his magic. Ed was friendly and funny and made sure to include all of our party, who were aged between 3-89. Having Ed's magic at our party made the event special and memorable and I would recommend Ed without reservation.
Fantastic close up magic that enthralled everyone
A great evening, blew our mind with his tricks! Would recommend 10/10
Ed, you were awesome! - very entertaining, funny and clever.
Very good and entertaining, would recommend.
Just wowed at a corporate event… thoroughly recommend.
Ed was great, very entertaining.
A fantastic magician and entertainer.
Just wow, totally babbled. How did he do it. Amazing
Birmingham magician, Ed Sumner is a professional magician and the best choice to bring your event to life! Ed is one of the few full time professional in the city, having performed at thousands of private events and previously hosted his own regular monthly magic show on Broad Street. If you're looking for the best magician in Birmingham, you're in the right place.
"Ed performed at a corporate event we hosted in the city. He amazed and delighted all who attended! I would not hesitate to hire him again, and in fact, look forward to the opportunity to do so."
Ready to find out more?
Get in touch today for expert advice about what would work best for your event.
BIRMINGHAM MAGICIAN OPTIONS
This can include close up magic either as guests enter or table magic between the courses of the meal. You might even choose to include a spectacular stage show or full events hosting. Not only does your event become simpler to organise when you hire a magician, but you also get incredible entertainment.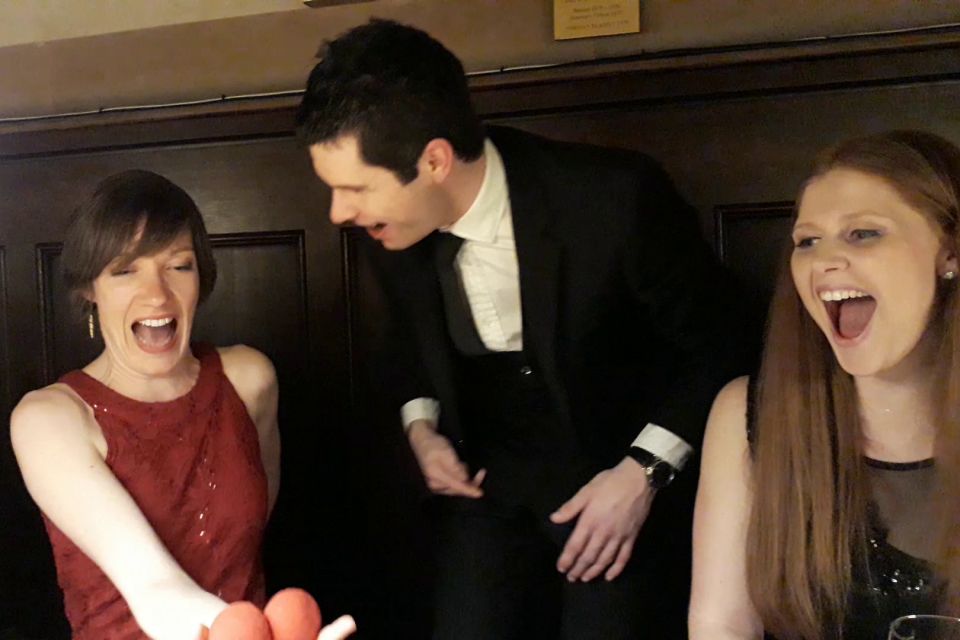 p.s. If your event requires it, I can also hire on your behalf multiple Birmingham magicians / other entertainers (think caricaturists, circus acts, casino tables, etc) local to the area.
Weddings are the perfect excuse to party! And a professional close up magician is one of the most recommended entertainment options for your day. A quality magician will spark conversations and bring your day to life, and make sure no-one feels like they are waiting around. Let's get your party started!
Every event is slightly different so, get in touch today for a friendly chat about your plans.
Still searching for the perfect place to tie the knot? Here are a few Birmingham wedding venues  I've performed at.
The Banqueting Suite, in the Council House Building
Hotel du Vin, Birmingham City Centre
Birmingham Botanical Gardens
Shustoke Farm Barns, near Birmingham
Castle Bromwich Hall Hotel
WHEN TO HIRE A CLOSE UP MAGICIAN IN BIRMINGHAM
Watch this incredible video below ↓ of an amazing reaction to my close up magic. Filmed on Broad Street in Birmingham. Now imagine your guests laughing, cheering and reacting like this at your party / event!
p.s. put the subtitles on for this one.
...and here's some cool venues to check out if you're looking for the perfect party space in Birmingham
The Botanist
The Button Factory
The Night Owl, Digbeth
Fazeley Studios
The Actress & Bishop
The Old Joint Stock
Close up magicians are a popular entertainment option for many events. The best, know instinctively how to get the most from your guests, combining incredible magic effects, with upbeat conversational comedy and a down to earth manner. Imagine your event filling with comments like:
"Do that again!"
"No way!"
or "You've got to show that one to my friend!"
That's what I often hear when I'm hired to perform close up magic.
I've performed as a close up magician at all of the below event types, but if you've got a different idea then please get in touch. Some of the best events I've done have been the ones where someone has come to me with their ideas and we've worked together to make it a reality. After all, as a magician, I do the impossible everyday!
Weddings
Wedding anniversaries
Birthday parties
Retirement parties
Student balls / proms
Private dinner parties
House warmings
Family get togethers
House parties
Late night bar magic
Find out more about close up magic here, or reach out to me for more information about hiring me, your Birmingham magician, to attend your next event.
WHEN TO HIRE A STAGE MAGICIAN IN BIRMINGHAM
My stage magic is the perfect way to entertain larger groups. My spectacular show combining incredible magic and impossible mind reading can entertain from 50 to 500 guests, and for between 20 and 50 minutes. It's the perfect choice for after dinner entertainment.
So that's what I do, but why should you consider hiring me over any other magician. Simply put, while performing to three or four people is something that most magicians can manage, holding the attention of 200 + people, is a skill that only a few magicians in the country can do.
I'm one of those who has spent time building up those skills. I've been described as an expert stage performer, but really the secret to performing on stage comes down to one thing. It's confidence. A nervous performer makes the audience feel awkward too.
Fortunately I've performed on stages across the whole of the UK. In Birmingham, I've performed in store on stages for both Selfridges in the Bull Ring and Harvey Nicholls in the Mailbox (for three years running), as well as at the Hippodrome Theatre.
Get in touch to talk about your event, or see more about stage magic here.
Ready to find out more.
Get in touch today for more information about hiring Birmingham magician, Ed Sumner.
BIRMINGHAM MAGICIAN REVIEWS
Funny, captivating, affable and absolutely fantastic at mesmerising people with his skills. I was absolutely delighted with everything Ed did for our guests. I would not hesitate to recommend Ed to anyone looking for a solid professional magician.
Ian Gandley, Birmingham
Ed's friendly and outgoing manner got everyone interacting and made the first part of the party fly by. I was not the only one to comment, how on earth did he do that!? We would definitely recommend Ed and book him again. It was the perfect entertainment for our party
Shelly Spooner, EffecTech, Birmingham
From the moment we contacted Ed he was extremely professional and helped us sort out the booking easily. Ed arrived 15 minutes before he was due to perform and started a few minutes before. This was really appreciated. All of our guests were amazed and many said he was the best part of the evening.
Sian Leonard, Birmingham
Ready to find out more?
Get in touch today for an accurate quote or more information about hiring Birmingham magician Ed Sumner.
BIRMINGHAM MILITARY EVENTS MAGICIAN
Birmingham close up magician case study
As a Birmingham magician, I get to perform at lots of events across the city, but this was one that really stood out to me. I performed alongside another Birmingham close up magician at a  large military black tie ball. Hiring multiple magicians is a popular choice for larger events, and I can even help organise that on your behalf. I am well connected within the magic industry and can help to put together a team of excellent professional performers.
Back to this event. This was a military ball to celebrate recent achievements including many who had recently passed out.
We began by entertaining guests as they arrived for a welcome drink, and then later entertained with table to table magic during dinner. Later there was a live band, and a large scalextrix track and other games for guests to play on. I didn't organise the band, but as part of my service, I did recommend the other games company to my client.
This all took in the legends lounge at Birmingham City Football Stadium, St. Andrew's. All of the magicians team got great reactions to our entertainment, with lots of laughs, gasps and enjoyment from everyone there.
Even better was that many of those great moments were captured by their event photographer. Just take a look at the client review and some of the pictures below.
Ed is a fantastic magician. Not only was his magic incredible, he sorted out all the fine details, and went over and above for our guests. We would definitely use his service again and would recommend to a friend.

- Luciano Grana, Birmingham
You were amazing! Your events were definitely the most popular and received the best feedback. A number of our guests have said they are still talking about them to this day.
Serena Tutt, Selfridges, Birmingham
We hired Ed for our corporate 60th birthday celebration. He did a great job at capturing the audience's attention and his tricks were in a word - brilliant. Great communication prior to the event. Super friendly, and we would recommend!!
Melissa Payne, IPU Group, Sutton Coldfield, Birmingham
Ed was absolutely fantastic and created fantastic memories for our ten year wedding anniversary. He even provided a spur of the moment performance to the whole group, which I didn't expect. Ed goes the extra mile and is flexible to work with. I would highly recommend him.
Ali Shah, Birmingham
YOUR INCREDIBLE EVENT IS
JUST A FEW STEPS AWAY
It's easy to get in touch with me, either:
During a short phone or video call, we'll talk about your event and your initial ideas. Don't worry, if you're not sure. I've helped to plan many events so I can advise on the best use of magic and other events entertainment.
Once all the details are agreed, I'll send you a booking confirmation and ask you to make the first payment which confirms your date in my calendar. Then it's time to start looking forward to your big event.
I'll check in with you in the week before your event, and on the day of the event. All you need to do now is enjoy the magic, mind reading and conversational comedy.
"The performance was fantastic and is still being talked about! Thank you for being so friendly, accommodating and professional, it has been a pleasure to deal with you."

ED@EDSUMNER.COM
07792 129 828