I booked Ed to perform at my husband's 60th Birthday party. We had invited 20 friends to a local restaurant and Ed entertained us between courses. He was supremely professional and we loved all of his magic. Ed was friendly and funny and made sure to include all of our party, who were aged between 3-89. Having Ed's magic at our party made the event special and memorable and I would recommend Ed without reservation.
Fantastic close up magic that enthralled everyone
A great evening, blew our mind with his tricks! Would recommend 10/10
Ed, you were awesome! - very entertaining, funny and clever.
Very good and entertaining, would recommend.
Just wowed at a corporate event… thoroughly recommend.
Ed was great, very entertaining.
A fantastic magician and entertainer.
Just wow, totally babbled. How did he do it. Amazing
Derbyshire Magician, Ed Sumner, is a professional close up magician available to hire for a variety of events from corporate events and parties to weddings and celebrations. As a professional close up magician, Ed performs throughout the UK but he is one of the few full time professionals performing in the Derbyshire area.
"A friendly, interactive gent who oozed confidence and impressed even the most skeptical of our guests. Ed brought our wedding to life!"
Ready to find out more?
Get in touch today for expert advice about what would work best for your event.
DERBYSHIRE MAGICIAN REVIEWS
Ed was totally amazing! He performed close up magic and an after dinner cabaret show at our Christmas party and he was marvellous. People haven't stopped talking about him. We all thought he was the best we have ever hired!
Abigail Clayton Hart, DMT Group, Derby
From the beginning of the booking to the end of the evening, Ed was the consummate professional. He hosted what can only be described as a raucous room of 300 people with patience and style. From the close up magic through to hosting of the event with stage magic for all, Ed and his colleague made our night. I couldn't recommend them both enough!
Jessica Bell, Derby
Ed intrigued guests from the moment he turned up at their table entertaining all ages with his jokes and incredible magic. He also performed during our evening event and had even the most skeptical guests asking, how did he do that?! Simply brilliant!
Martin and Karen Care, Ashbourne
If you're looking to hire a close up magician for an event in Derbyshire then you're in the right place. But why should you consider hiring a magician as entertainment for your event? Simply put, a professional close up magician brings your event to life!
 
At least, that's what I do. I'll mix with your guests, and help the room fill with laughter, gasps and people squealing, "No way! Do that again!" (or similar). My performances are lively, upbeat and a lots of fun to be a part of. I'll spark conversations, and create the memories you'll be sharing later.
Find out more about close up magic here, or get in touch to discuss your event.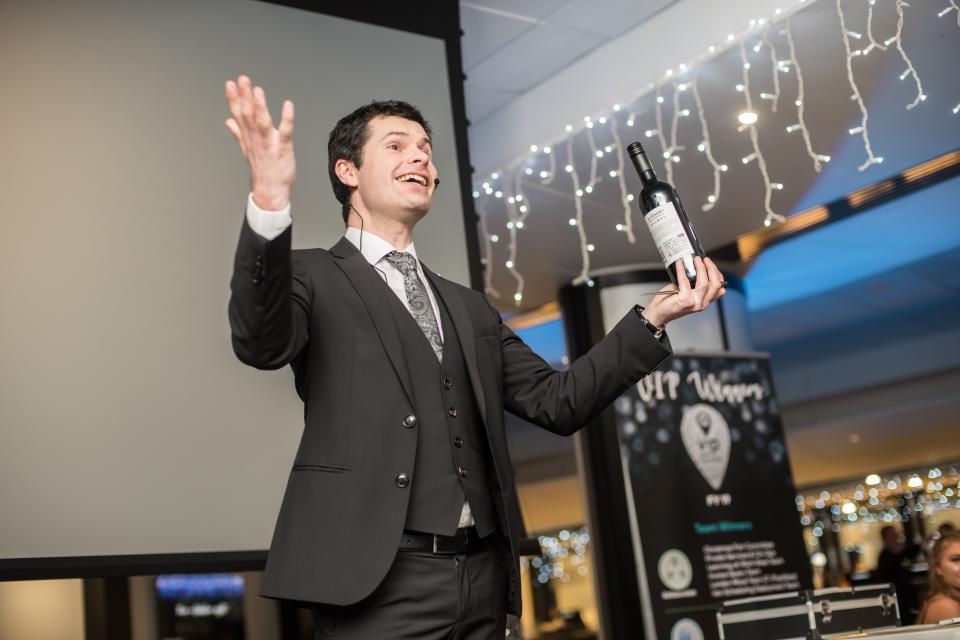 Few magicians perform as a stage magician, but this is one of the areas I've spent a lot of time studying and perfecting. I'm confident performing on the largest stages across the country and can also be hired to as an events host / mc, where I weave in magic throughout the night.
The stand alone show, is a large scale performance perfect as after dinner entertainment. It can play for up to 500 guests, and run from 20 to 50 minutes. It really adds the WOW factor to any event!
Find out more about stage magic and events hosting here, or get in touch for more information.
EVENTS ENTERTAINMENT IDEAS
Whether it's an awards night, charity fundraiser or other corporate event, a magician is a popular choice. There are two main services I offer for magic, each with their own distinct advantages.
Close up magic / table magic - with this performance style I am meeting guests in small groups. There is a slight difference whether this is walkaround in the bar, or table to table. They are both great ways to entertain guests in a relaxed, informal way. My close up magic style is very conversational. The great thing about magic is that it's interactive. It helps to break the ice and sparks conversations away from work topics.
Stage magic / events hosting - this is best for larger events. On stage I can provide a set show for up to 500 guests. This is great to fill that awkward after dinner slot with a 20 minute show, or a 50 minute showcase. Another very popular choice is event hosting. I'll make all of the announcements and introductions and make sure everything runs to time. And at the same time, I'll weave in my magic throughout the night!
Read more about corporate events here. And don't forget to get in touch. I'll help you as far as can with free advice to make sure your event is a success.
Some cool events spaces in Derbyshire:
The Palace Hotel, Buxton
Pavillion Gardens, Buxton
Chatsworth House, Bakewell
The Venue, Ashbourne
The Roundhouse, Derby
Derby County Football Club
Casa Hotel, Chesterfield
Ready to find out more?
Get in touch today for an accurate quote or more information.
ps. still looking for your dream Derbyshire wedding venue? Here's some I've performed at previously:
Osmaston Park, nr. Ashbourne, Derbyshire
Shottle Hall, Derbyshire
Bentley Brook Inn, Peak District
Breadsall Priory Hotel, Derby
Ringwood Hall, Chesterfield
Hiring a magician for a wedding is a great choice. I recently planned my own wedding and one of the things I wanted to be sure of, was that it felt like a celebration. Most people consider entertainment for the evening, such as a band or a DJ, but there are moments throughout the day when entertainment can be a fantastic benefit to your day. I've found that these are often during the afternoon reception, while the photographs are being taken, and during the evening turnaround. Those are fantastic moments to include entertainment. It makes your wedding into a celebration.
Of course, it doesn't have to be magic, but a close up magician is a great choice. Unlike other forms of entertainment, a quality close up magician interacts with your guests. No matter how far you look, you'll never find a classic musician who kicks your party up a gear and gets everyone laughing and interacting with each other.
The way that I perform is very sociable. It's lively, upbeat and great fun to be a part of. It's a conversational style of performance and it's fantastic for family events such as weddings. After all isn't that what weddings are about, spending time celebrating with your closest friends and family.
I've performed at weddings across Derbyshire including in Ashbourne, Buxton, Chesterfield and, of course, Derby, and I would love to perform at yours next.
Get in touch for a quick chat about the specifics of your big day, or read more about weddings here.
A close up magician makes parties alive. It's a celebration after all. My performances are lively, upbeat and conversational magic. This isn't your grandad's card tricks. It's contemporary close up magic and mind reading that brings people together. It's a lot of fun to be a part of! You'll laugh, you'll scream, you'll have stories that you'll remember for years to come!
So, ban that boring atmosphere where everyone shuffles awkwardly talking about the weather or work. Instead hire a close up party magician, and let's make your party - whatever you are celebrating - an event to remember!
Read more about magic at parties here, or reach out to be for a quick no obligation chat about your party ideas.
PREVIOUS EVENTS IN DERBYSHIRE
Here are a few Derbyshire events that were memorable to me. If you like the sound of it, then click to read more.
YOUR INCREDIBLE EVENT IS
JUST A FEW STEPS AWAY
It's easy to get in touch with me, either:
During a short phone or video call, we'll talk about your event and your initial ideas. Don't worry, if you're not sure. I've helped to plan many events so I can advise on the best use of magic and other events entertainment.
Once all the details are agreed, I'll send you a booking confirmation and ask you to make the first payment which confirms your date in my calendar. Then it's time to start looking forward to your big event.
I'll check in with you in the week before your event, and on the day of the event. All you need to do now is enjoy the magic, mind reading and conversational comedy.
"The professional manner in which he took the booking and ensured he knew exactly what was required is a credit to him."

ED@EDSUMNER.COM
07792 129 828