How to Hire a Magician for a Christmas Party
This is the one time of the year where you celebrate a year's worth of achievements. One of the absolute best ways to do that is to hire a magician for your event. How do I know this? Well, I've attended hundreds of Christmas parties. I've seen the amazement, I've heard the laughter, and I've had fantastic feedback on how magic helped to transform their event!
Boycott boring at your Christmas party!
This isn't the time for standing around awkwardly making small talk. After all,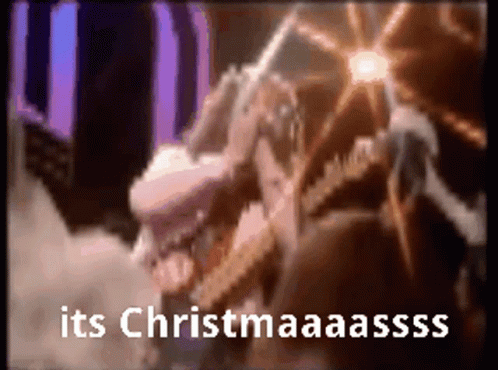 Instead, let me make it an unforgettable event for you.
In this post, I'll set out:
Who am I and what is my style of magic?
I'm a professional close up magician in the UK and have been for the past ten years. I started performing in 2003, and turned professional in 2012.
Each December, I perform at roughly 30 events raging including:
small family parties at home
work events in restaurants and bars
large corporate events in hotels
Many of these are local to where I'm based, but as I live in Staffordshire, I'm in the perfect central location to cover much of the UK.
I believe my popularity at events comes from both my extraordinary demonstrations of close up magic performed right in front of you, but also the relaxed, conversational style that allows your guests to feel included in the entertainment. People love to laugh, and I love to help make that happen.
Read more about my approach to performing magic here.
I think that's the reason why I have over 60 five star reviews on google, and regularly get feedback such as:
There are few different styles of magic that I can offer, but which I will describe next. In the meantime, they say a picture a worth is a thousand words, well here's a video.
Christmas party magician options
I understand that organising a Christmas party can be quite time consuming, and sometimes stressful, so if you have any questions send them over to me and I'll be happy to help out.
Ready to find out more?
Get in touch today for an accurate quote for your Christmas party.
In the meantime, the options you have for hiring a magician for a Christmas party are whether to go for a close up magician or a cabaret performance, or a combination of both!
When you enquire with close up magicians they will ask you whether you are having a formal meal or not. This tells them whether they should prepare to perform table magic, in between the courses of the meal, or walkaround magic, where they mix with guests. You can see an example of me providing these two performance styles in the photographs below.
A cabaret performance, is essentially a performance to the whole group. It can either be a stand alone thing, eg. a 20 minute to 45 minute show after dinner, or it can be an extra add on. That's a great idea as people get to know the magician during the close up magic, and then won't feel embarrassed if asked to help on stage. Sidenote: I never embarrass anyone, but some people do feel more reserved about standing up in front of everyone. It's also a popular choice as you get the best of both worlds.
One thing to consider is that if there are a large number of guests (generally over 100) then a raised stage is recommended so that everyone can see. If not, then I can perform 'on the level' with everyone else. Below you can see examples of me providing a group performance on stage, and for a smaller group, without a stage.
The Easy 4 Step process to booking a magician for a Christmas party
Step 1.
Now that you've had a look through my website, and if you haven't then find out more about me here, the best way to start your enquiry is by getting in touch with me.
In order to help me get back to you with specific information, it's really useful to know.
Date of the party
Time (or your best guess)
Location (with a postcode)
How many guests are attending (approximately is fine)
Where you see magic fitting in - if you're unsure then I can advise, but reading the above re: close up magic / cabaret performances might help.
You would be surprised how many enquiries I receive that just say, "prices, please" and in those cases, I can only give a general guideline such as somewhere between £400 - £2000, which isn't very helpful. As I'm sure you can imagine a midweek event 5 miles from home is cheaper than one on a Saturday night, at the other end of the country.
See also: How much does a close up magician cost?
Here are my contact details.
ed@sumner.com
07792 129 828
Step 2.
I'll then reach out to you. If I have all of the information I'll email you back with a quote. If I need more information, or your event is a little more unusual, I'll give you a short call to talk about your event.
If you want to we can also arrange a video call. Some clients like to do that so they know who they are dealing with and who will be attending their event. That is, of course, fine.
This is also the time to ask as many questions as you want.
In the meantime here's my FAQs page that answers some of the most common questions I get asked.
Got a different question? Go on, challenge me. I've performed at and helped to plan many events so I am confident that I can help you with yours.
Step 3.
Hopefully, by this point you're happy with what I provide and want me to come to your Christmas party to entertain everyone. That's great. I can't wait to meet everyone.
To get everything booked in, and so we're both clear on what we're agreeing to, I'll send you a booking confirmation. I'll also ask you to make the first payment to reserve the date in my calendar. That means no-one else can take that date.
Step 4.
That's it! I'll check in with you in the week before your event, and on the day of the event, I'll let you know that I'm the way. All you need to do now is enjoy the party!
Ready to find out more?
Get in touch today for an accurate quote for your Christmas party.
How to book a last minute magician in December
December is without doubt the busiest month for magicians and other entertainers. Every day there are hundreds of Christmas parties going on across the UK. As such, many magicians get booked up quite quickly.
However, if you don't ask, you don't get so it's always worth reaching out to a magician to see if they are available.
If you are looking for a last minute magician, then you should get in touch with me. Not only am I a professional close up magician who covers the whole of the UK, but I'm well connected within the magic community so if I can't help I can very often hire someone on your behalf, recommend another magicians or at the very least point you in the right direction of where to start looking.
As I said at the start of this post, and I honestly believe it, magic is the best way to make sure your Christmas party is a huge success.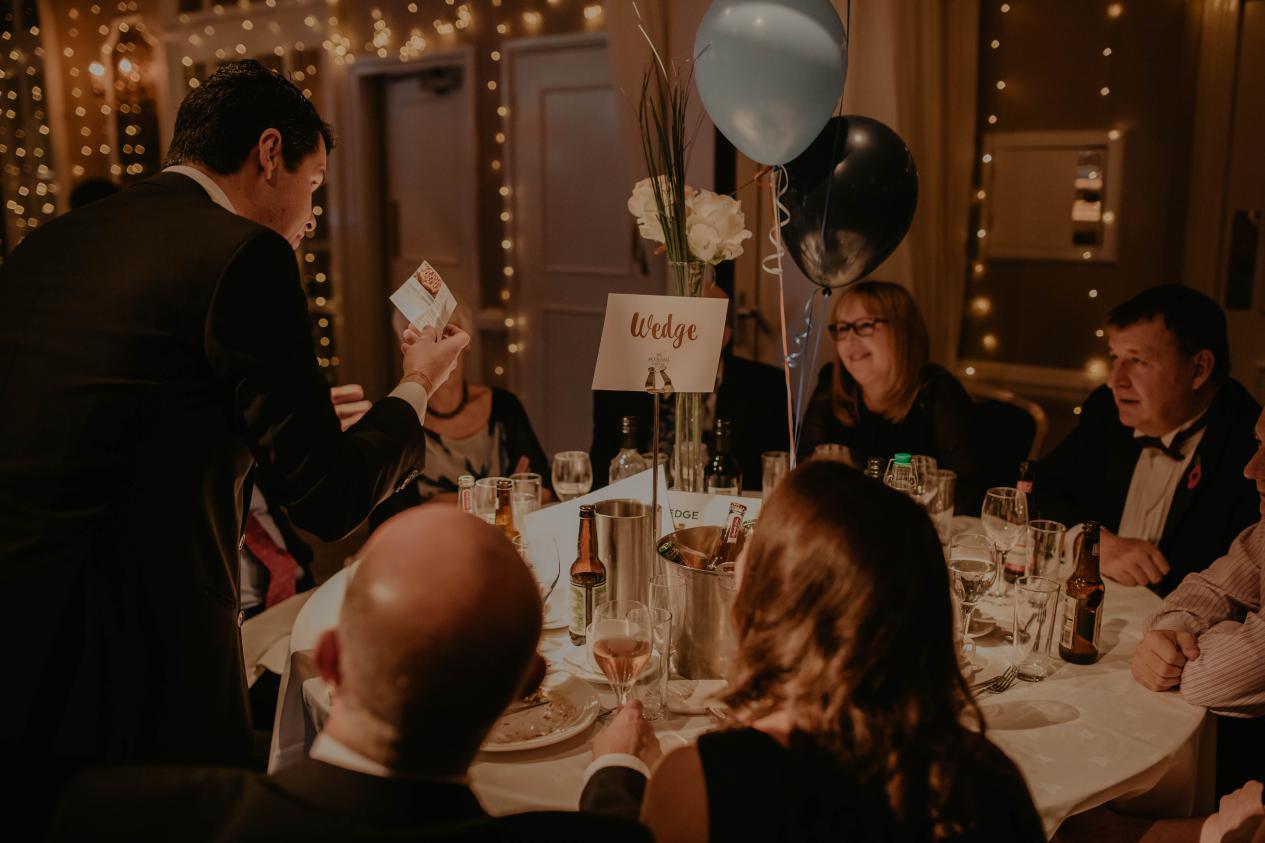 Wrapping up
Well, that's it. I hope this post has helped you to learn how to hire a magician for a Christmas party.
It's so important that when you hire entertainment for your event that you are confident the magician you hire can do the job that you ask. That's why it's I always recommend that you hire a professional performer such as myself. It's also why, If you have any questions at all, please reach out to me. I'm happy to trade emails or set up a short phone call or video call. I look forward to hearing from you, and hopefully entertaining at your Christmas party.
Looking to hire a magician?
Get in touch today for an accurate quote or more information.
YOUR INCREDIBLE EVENT IS
JUST A FEW STEPS AWAY
It's easy to get in touch with me, either:
During a short phone or video call, we'll talk about your event and your initial ideas. Don't worry, if you're not sure. I've helped to plan many events so I can advise on the best use of magic and other events entertainment.
Once all the details are agreed, I'll send you a booking confirmation and ask you to make the first payment which confirms your date in my calendar. Then it's time to start looking forward to your big event.
I'll check in with you in the week before your event, and on the day of the event. All you need to do now is enjoy the magic, mind reading and conversational comedy.

ED@EDSUMNER.COM
07792 129 828