HIRE A MEMBER OF THE MAGIC CIRCLE MAGICIAN
When it comes to entertaining guests, from corporate functions to private parties and weddings, there's nothing quite as mesmerising and engaging as a live magic performance. However, choosing the right magician isn't a decision to be taken lightly. If you're seeking a professional magician who has been recognised for their skill and dedication to the art, consider hiring a Member of The Magic Circle, one of the most prestigious magic organisations in the world.
Founded in 1905 in London, The Magic Circle represents an international group of magicians who have dedicated themselves to perfecting the art of performing magic. This esteemed organisation not only promotes and preserves the magic but fosters a community of learning and adherence to the highest standards of performance.
I'm proud to have been a Member of the Magic Circle since 2011, alongside such legendary past and present figures like David Devant, John Nevil Maskelyne, David Berglas, David Copperfield, Paul Daniels, Fay Presto and Dynamo. You might not have heard of all those names, but rest assured that the rich history of The Magic Circle but inspire current members to strive for greatness in the art of magic.
Unlike many affiliations, membership in The Magic Circle isn't easily attained. The road to membership involves two existing members to vouch for you, a thorough interview and an examination, where aspiring members must showcase their abilities in front of existing members. This can sometimes be quite nerve racking, but it's a test of a magician's commitment and expertise.
Choosing a Magic Circle magician means entrusting your event to someone whose skill and professionalism have been carefully vetted.
BENEFITS OF HIRING A MAGIC CIRCLE MAGICIAN
Assurance of Quality ✓
Members have undergone a demanding assessment, proving their professional competence. When you choose a Magic Circle magician, quality is guaranteed.
Continuous Professional Growth ✓
The Magic Circle emphasises ongoing education, ensuring that members are at the forefront of modern magic, including the latest routines and techniques.
Commitment to Excellence ✓
Membership in The Magic Circle signifies more than skill and artistry, it's a commitment to the highest standards of excellence and integrity in magic. When you hire a Magic Circle magician, you're choosing someone who embodies these values, ensuring a positive reflection on your event.
What I Offer as a Magic Circle Magician
As a proud member of The Magic Circle, I'm committed to providing a magic experience that goes beyond just entertainment. My expertise spans a wide range of magic, and as such I have the flexibility to cater to various event needs. I'll always work with you to find out what works best for your event. Here's the majority of what I do.
Perfect for giving each guest a unique, personal experience, my close up magic involves small group interactions as I mix with guests and create incredible shared experiences that encourage interaction among guests.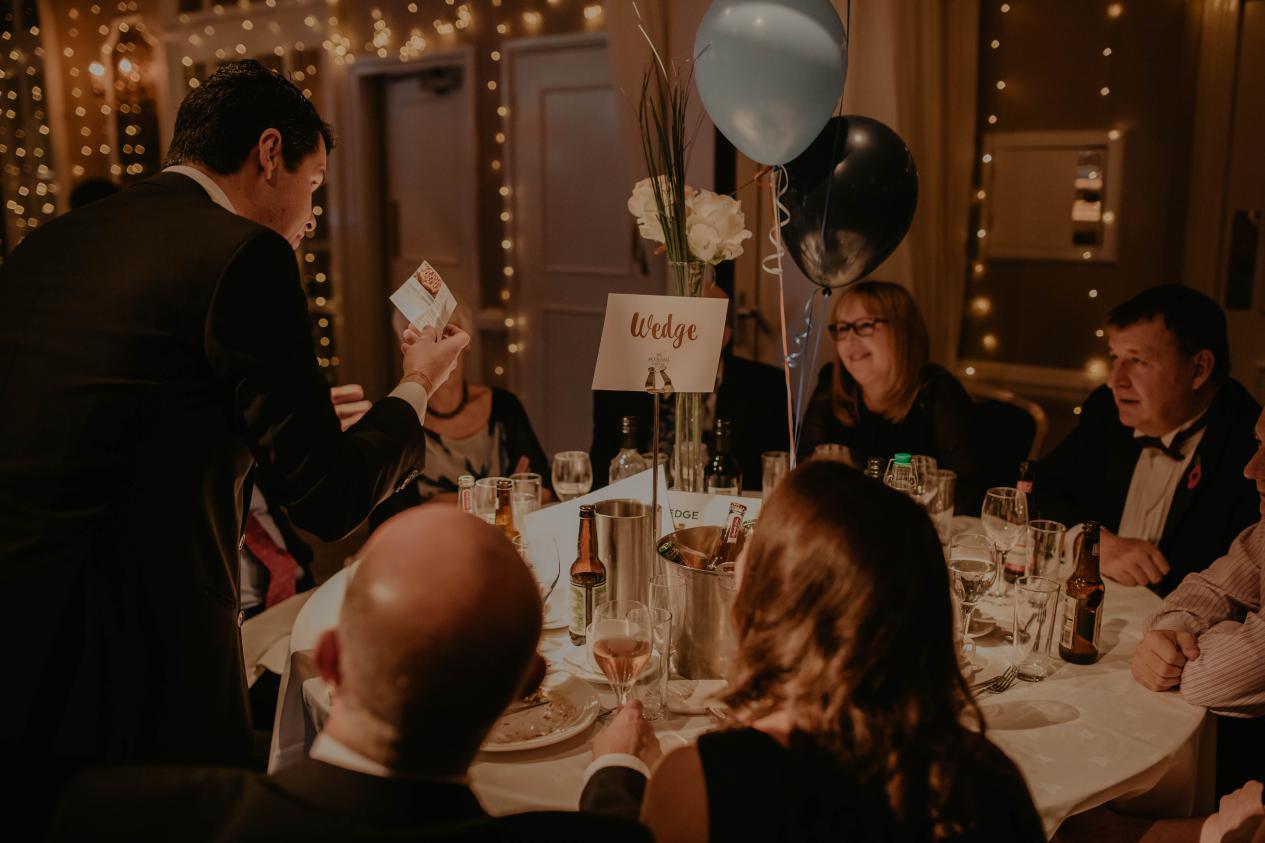 For larger gatherings, my stage show blends unbelievable mind reading with incredible illusions that captivate audiences and create memories you'll be sharing long after the event has ended.
This style is an ideal blend between close up and stage magic. It's designed for smaller audiences in more intimate settings, such as a dinning room or lounge. This format allows for greater audience participation and interaction, yet with the theatrical flair of a stage show.
Birmingham Magic Circle Magician
If you're looking to Hire a Member of the Magic Circle in Birmingham then get in touch. It's my nearest big city, and I'm often there performing at gatherings such as corporate events and private parties.
I'm also ideally located to access the rest of the UK, so often cover events in nearby places such as Nottingham, Shrewsbury and Staffordshire.
It always worth getting in touch with for a no obligation quote, even if your event is outside of this area. I'm well connected with other Members of Magic Circle, so if I can't help I can almost always recommend someone professional and suitable for your important event.
Funny, captivating, affable and absolutely fantastic at mesmerising people with his skills. I was absolutely delighted with everything Ed did for our guests.
Ian Gandley, Birmingham
Ready to find out more?
Reach out to me for more information about including magic in your next event.
I booked Ed to perform at my husband's 60th Birthday party. We had invited 20 friends to a local restaurant and Ed entertained us between courses. He was supremely professional and we loved all of his magic. Ed was friendly and funny and made sure to include all of our party, who were aged between 3-89. Having Ed's magic at our party made the event special and memorable and I would recommend Ed without reservation.
Fantastic close up magic that enthralled everyone
A great evening, blew our mind with his tricks! Would recommend 10/10
Ed, you were awesome! - very entertaining, funny and clever.
Very good and entertaining, would recommend.
Just wowed at a corporate event… thoroughly recommend.
Ed was great, very entertaining.
A fantastic magician and entertainer.
Just wow, totally babbled. How did he do it. Amazing
Looking to hire a magician?
Get in touch today for an accurate quote or more information.
YOUR INCREDIBLE EVENT IS
JUST A FEW STEPS AWAY
It's easy to get in touch with me, either:
During a short phone or video call, we'll talk about your event and your initial ideas. Don't worry, if you're not sure. I've helped to plan many events so I can advise on the best use of magic and other events entertainment.
Once all the details are agreed, I'll send you a booking confirmation and ask you to make the first payment which confirms your date in my calendar. Then it's time to start looking forward to your big event.
I'll check in with you in the week before your event, and on the day of the event. All you need to do now is enjoy the magic, mind reading and conversational comedy.

ED@EDSUMNER.COM
07792 129 828