Top Five Party Tips for Any Party
As a professional party magician, I'm going to recommend that hiring a close up magician is one of the best things you can do for your event. Of course, I would say that, but I mean it too. A quality professional performer has the experience to know how to bring out the best in your guests, how to get them laughing and being involved rather than standing around or sitting around waiting for the buffet to open.
Please note, I mentioned a quality professional. Someone starting out tends to focus on the tricks, rather than the people. An experienced magician will regularly get feedback like this:
They'll also have fantastic photos and videos which show them working at events like yours. Here's just one of mine, and you can find more throughout my site.
I talk more about how to hire a magician on my FAQS page, but for now here are my top five party tips for any party.
This article was originally part of an series of emails offering advice on tips on planning Christmas Parties, but I reckon that they are useful for any type of celebration.
1. Cover the Party Basics
Someone called me recently about a booking and they asked me if there was anything else that I could recommend for their event. I checked they had what I call the 'party basics'. It's tempting sometimes to try to book absolutely everything but more is less, and I think that if you have these basics then everyone will be happy.
So what are party basics?
They are
venue
food
entertainment
decorations
2. Ask for Recommendations
If you're not sure on which supplier to go for then first start by asking your friends and family.
Is there anyone that they can recommend?
Is there anyone they have seen at an event before?
Have you seen anyone at an event?
I hand out business cards when I perform magic, and I'm proud of the fact that a lot of my work comes through people keeping those cards, or passing them on to friends. It shows that I must be doing something right.
Another idea is ask at the venue or ask your other suppliers. I know several companies who provide excellent services for your party, so feel free to also get in touch with me if you want to.
3. Do Something a Little Crazy
OK, maybe this is in contrast to the first point, but if you've got a crazy idea then I say go for it! I love it when a party has a bit of a WOW factor. I performed at an indoor ski-centre which was really magical, I've performed at an event with a Willy Wonka look-a-like, and I've performed at an event that was filmed for a TV show.
If you can make people go 'wow, that's amazing!' then they will be sure to remember you and your event for a very long time.
By the way magic is the only art form that makes people gasp, makes people do a double take and makes people go wow. That's why, if you want to create a memorable event that people will talk about for years to come, a magician is a great idea. It's the perfect way to add the wow factor to your party.
4. Invite People Early
Make sure you send your invitations and 'keep the date free' notices out early. It's difficult for people who have busy schedules to rearrange at the last minute. For my close up magic bookings, I usually recommend that people book me about six months in advance.
5. Enjoy Your Event
This is a really important one!
Make sure you take some time to relax, to enjoy your event and socialise and enjoy the company of your guests. That's why you're holding the party, after all right?
One way that can help this is to hire some sort of entertainment. I said that it's one of the party basics, and I've mentioned throughout this article, why I think it's important, but the reason it's so great is that when you hire professional entertainment, the pressure is off you.
You can relax while the guests are entertained by a professional entertainer. With close up magic, I'm there to share magic with your guests, but also to welcome them and to get them involved. My performance style is conversational, so I'll get them laughing, but also interrupting with their own jokes, and being a part of the fun. In short, I help people to connect.
I help to make sure everyone is enjoying the party. If it's an event with a lot of guests this means that you don't need to worry about anyone, because I will be there to take care of everyone.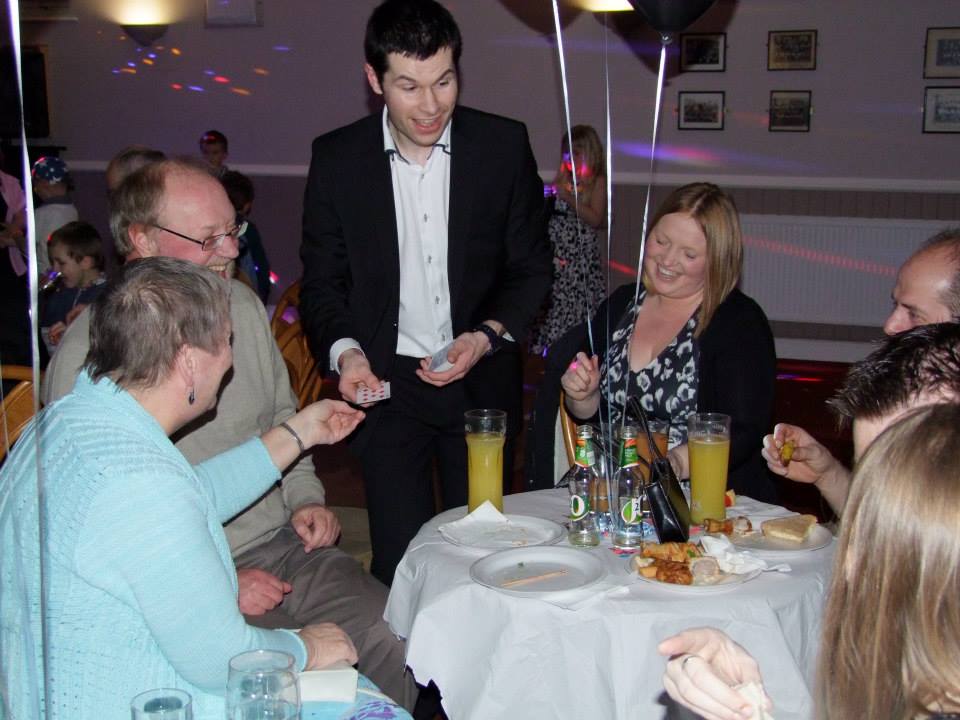 So what are you waiting for? With the advice given here, hopefully you feel like you are in a better position to plan an awesome party.
And if you need help, then why not get in touch for a no obligation, no pressure chat about adding some magic to your event.
Ready to find out more?
Get in touch today for an accurate quote or more information.
I booked Ed to perform at my husband's 60th Birthday party. We had invited 20 friends to a local restaurant and Ed entertained us between courses. He was supremely professional and we loved all of his magic. Ed was friendly and funny and made sure to include all of our party, who were aged between 3-89. Having Ed's magic at our party made the event special and memorable and I would recommend Ed without reservation.
Fantastic close up magic that enthralled everyone
A great evening, blew our mind with his tricks! Would recommend 10/10
Ed, you were awesome! - very entertaining, funny and clever.
Very good and entertaining, would recommend.
Just wowed at a corporate event… thoroughly recommend.
Ed was great, very entertaining.
A fantastic magician and entertainer.
Just wow, totally babbled. How did he do it. Amazing
Looking to hire a magician?
Get in touch today for an accurate quote or more information.
YOUR INCREDIBLE EVENT IS
JUST A FEW STEPS AWAY
It's easy to get in touch with me, either:
During a short phone or video call, we'll talk about your event and your initial ideas. Don't worry, if you're not sure. I've helped to plan many events so I can advise on the best use of magic and other events entertainment.
Once all the details are agreed, I'll send you a booking confirmation and ask you to make the first payment which confirms your date in my calendar. Then it's time to start looking forward to your big event.
I'll check in with you in the week before your event, and on the day of the event. All you need to do now is enjoy the magic, mind reading and conversational comedy.

ED@EDSUMNER.COM
07792 129 828