Christmas Party Ideas for Entertainment - Ultimate List!
The tree is up, the tinsel is out and you are ready to party! But have sorted any entertainment? Planning engaging activities to keep your guests amused all night is vital to the success of your Christmas party, but it's not an easy task to accomplish.
Fortunately, I've got you covered with this list - actually two lists, one of entertainers you can hire, and one of games you can create yourself. That way, I hope there's something here for every budget. With this list of entertaining party ideas and activities, you can host the perfect Christmas party this year. Simply choose your favourites from those mentioned below, or get in touch with me for a further chat about how to make your celebration incredible.
HIRE PROFESSIONAL ENTERTAINMENT
A superb pop and rock band will really get your party rockin'. Powerful horns, soaring vocals, earth-shattering percussion, and mind-blowing guitar riffs, will mean there won't be a spare space on the dance floor! And to get people singing along, why not ask the band you're looking to hire if they can play a range of Classic Christmas Covers such as:
Merry Xmas Everybody - Slade
I Wish it Could be Christmas Everyday - Wizzard
Driving Home for Christmas - Chris Rea
Last Christmas - Wham
A quality pop and rock band are a sure bet when it comes to creating a party atmosphere.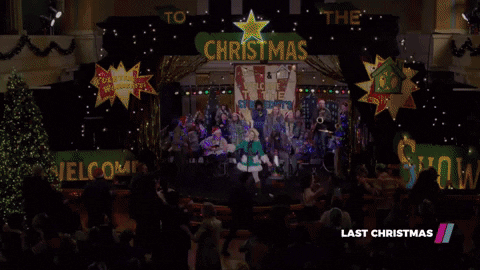 Even if hiring a DJ for a party is hardly a ground-breaking notion, it is nonetheless important to consider. No artist has access to as much music as a DJ, and many DJs have thousands of tunes at their disposal.
But before booking, do bear in mind that there is a different (in my mind at least) between a disco where someone simply hits play, and a DJ that has the skill to read the room and play the most appropriate music.
If you are looking for a selection of open format DJs then why not visit these guys - Storm DJs who I have always found to be professional to deal with and professional quality performers.
You might not think of a string quartet as the ideal party entertainment but stick with us. Many of the most popular pop songs have been transformed to spectacular effect by electric and acoustic strings in jaw-dropping versions that have taken the internet by storm. Here is one example. With this creative party entertainment you can impress your visitors with something they might not have seen, or heard, before.
Ah-ha! Now we're talking. This is my specialty, so I might be biased but if you're looking to bring your Christmas Party to life, then I can think of no better way than by hiring a close up magician. Why? Well, close up magic takes place in a shared space so people are able to be instantly involved. That means they get to laugh along with friends and colleagues while at the same time witnessing the impossible right in front of them. And after all, Christmas is supposed to be magical right!
What is even better, is that if you are planning a large celebration, I can hire multiple performers on your behalf. And I only ever work with the best close up magicians in the UK.
You can read more about magic at Christmas Parties here.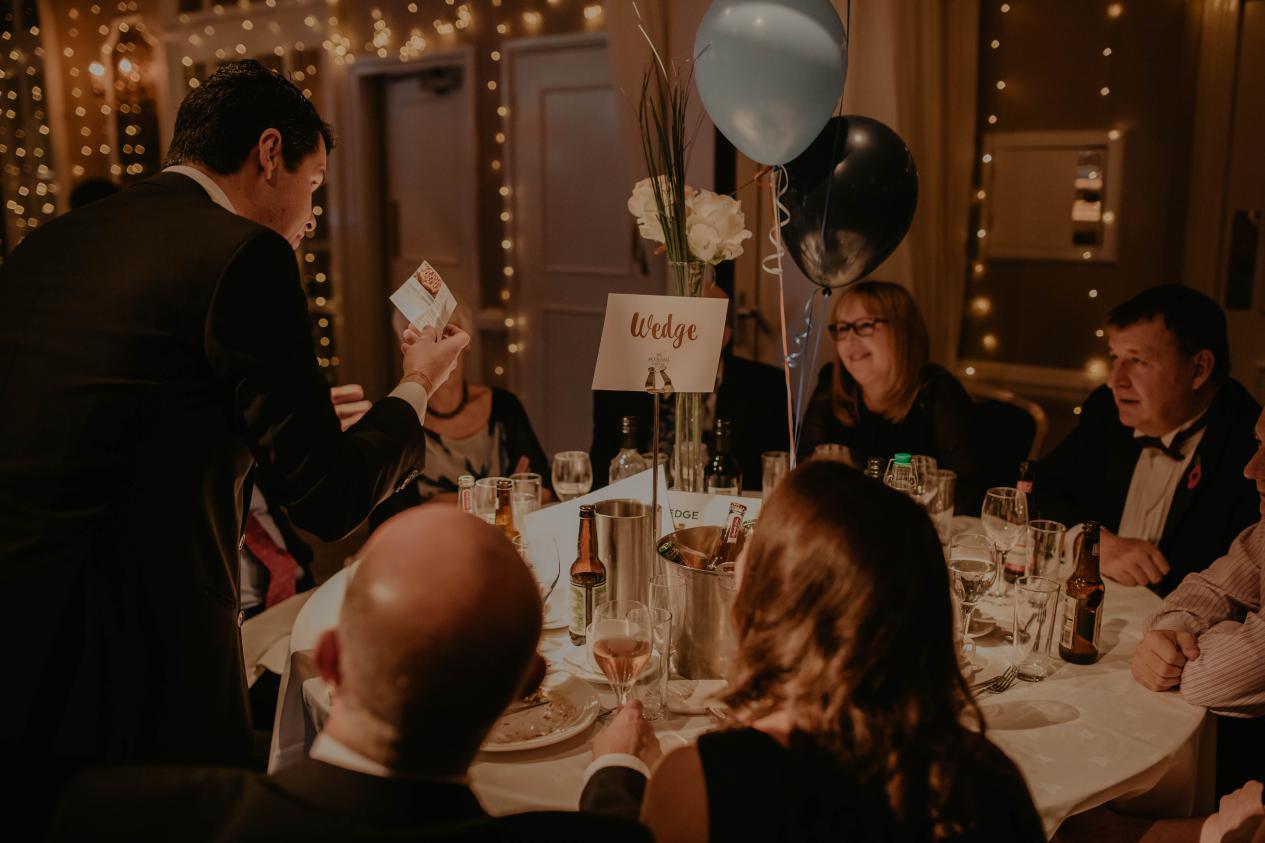 Ready to find out more?
Get in touch today for an accurate quote or more information.
What on earth is bar flaring, I hear you ask? Well, have you seen the 1988 film, Cocktail, staring Tom Cruise? If so, that might help to answer your question. If not, then allow me to explain...
Flair bartenders use a mixture of manipulation and juggling to entertain a crowd all whilst at the same time making you a delicious cocktail. You can see why they also call this bar magic!
I think this is a fun entertainment and can also be Christmas themed by asking for some of the traditional flavours and spices we associate with Christmas. Add some red napkins and Christmas nibbles and you're well on your way to a great Christmas party.
Nothing is more wonderful than a visit from old Saint Nick, Father Christmas, Père Noël or whatever else you might like to call him. A visit from Santa is always a fantastic Christmas party idea, whether it's for the children or to even for the adults too! Book a Santa visit and be ready for selfies, gift-giving, and lots of ho ho hos!
Photo booths / magic mirrors, are a popular form of entertainment and can be Christmas themed with Santa hats, Elf ears, candy canes, and lots of fake snow. The idea is to make people chuckle with some silly photos.
Personally, I'm not a huge fan of this type of entertainment which tends to be more static, than a close up magician. It's really reliant on people wanting to have a go, and could potentially sit in the corner unused. Whereas a magician's job is to help bring people together, foster connections and help people to have a great time. After all, people enjoy being with other people more than they like things. Having said all that though, a photo booth is a cheaper option, and if people will use it then it does give a fun Christmassy souvenir of your party, so maybe it is the right thing for your event.
OK, not strictly entertainment, but I hope you'll excuse the intrusion into this article. Food is such an important part of any event, and for your next Christmas party, soggy sandwiches and warm champagne just won't do. Instead, why not consider having a food truck attend your celebration.
Street food has become a massive industry and there are vendors that serve cusine from all corners of the globe, so I'm sure you can find something to suit you. They can distribute tacos, pizza, desserts, or even alcoholic drinks, direct to guests. If it's a corporate event, some companies will even let you customise the truck with your company's name or logo.
I've attended a few events where they've hired a food truck, and to me it always seems like a super simple way to cater for a party. I even chose this option for my own wedding!
Set up a festive Christmas charades game for your visitors and perform some of your favourite holiday traditions, without saying a word! Your list of charades could include:
Christmas music:
All I want for Christmas is You
Jingle Bells
Silent Night
Christmas movies:
Home Alone
Gremlins
The Princess Switch
Christmas books / plays:
A Christmas Carol
How the Grinch Stole Christmas
The Nutcracker
What else can you come up with?
Here's another take on a game involving Christmas music. Divide your guests into two or three teams for the ideal Christmas guessing game!
Teams are required to say the name of a Christmas song after singing the first line aloud in this competition. Keep your answers ready because you'll need to check to see which team correctly identified the most songs.
Have your guests guess what's inside a Christmas stocking, filled with lots of peculiar gifts and surprise items. The stocking may be touched by the players but they aren't allowed to peek to see what's inside. The player who correctly predicts the most items could be awarded the stocking after the game, or you could share out the prizes equally.
CHRISTMAS PHOTO ICEBREAKER GAME
For this entertaining icebreaker game, ask every one of your guests to bring two to three different Christmas themed photographs of themselves from when they were children. Each of the visitors' photographs will be placed in a basket when they arrive at the celebration. Each guest then selects a card from the basket and attempts to match the card with who is at the party.
If visitors can't find an old photo Christmas card, you might just ask them to draw picture of themselves as a child, instead!
CHRISTMAS ARTS AND CRAFTS
An hour or two of Christmas arts and crafts is never a bad idea. Gather a variety of Christmas-themed items, patterned paper, and crafting equipment, and then set your guests free making their own custom Christmas decorations, cards, stockings, or mini-trees. If children will be creating arts and crafts, think about having adults on hand to help them out too. Free Christmas colouring in sheets could be downloaded too, in order to occupy children and visitors.
Just imagine! A cookie decorating station with lots of frosting, sprinkles, and edible Christmas decorations is waiting for you and your party guests. This is a great, idea, especially for Christmas events that are focused on families. You could make the cookies from scratch or buy them in, and simply provide guests with a choice of decorating options and design ideas.
And the best bit? You then get to eat the cookies too!
You're never too old to decorate a gingerbread house! Grab some gingerbread house kits, or if you're feeling ambitious bake your own, and then with just some icing, and candies, you're ready to get decorating. Set up a big table for let everyone to sit around and decorate part of the house.
Here's a picture of a gingerbread house that I made last year!
Who doesn't love decorating the tree! Before enjoying food and beverages, gather your loved ones for a tree-decorating session. To make this activity memorable, you may ask each guest to make an ornament during the party or bring one of their own from home. Keep the Christmas music playing during this classic treasured activity.
Gift Exchange
A gift exchange is always enjoyable, but it may occasionally be challenging to select the ideal present for a colleague or someone you don't know as well as your friends and family.
If that applies to you, why not try this? When participating in a 'yankee swap', you bring a present to add to a pool of items from which everyone can choose. Your guests will be choosing presents, stealing from others, and having a great time before you even realise it.
The hardest aspect of preparing for a party is making decisions, but hopefully my suggestions for Christmas party entertainment have helped! Don't forget that if I can be of assistance planning the entertainment for your Christmas party, then please reach out to me.
And also remember you don't have to have a traditional Christmas party! Choose one or more of these entertaining business Christmas party entertainment suggestions and run with it. Take a chance with something out of the ordinary.
Ready to find out more?
Get in touch today for an accurate quote or more information.
Looking to hire a magician?
Get in touch today for an accurate quote or more information.
YOUR INCREDIBLE EVENT IS
JUST A FEW STEPS AWAY
It's easy to get in touch with me, either:
During a short phone or video call, we'll talk about your event and your initial ideas. Don't worry, if you're not sure. I've helped to plan many events so I can advise on the best use of magic and other events entertainment.
Once all the details are agreed, I'll send you a booking confirmation and ask you to make the first payment which confirms your date in my calendar. Then it's time to start looking forward to your big event.
I'll check in with you in the week before your event, and on the day of the event. All you need to do now is enjoy the magic, mind reading and conversational comedy.

ED@EDSUMNER.COM
07792 129 828